What info to include on your wedding website
It's been a while now that new technologies, websites, smartphones, apps for everything… are in our lives every day. And like everything else, wedding invitations and the way to inform guests have evolved too. So, nowadays it is indispensable to have a wedding website. We are all so used to have the information at anytime and anywhere that you can't just avoid it.
Most brides spend a lot of time making it beautiful, with nice colours and photos… but don't forget the mission of it: inform your friends and families. Having a website doesn't mean you have to put all your life details in, but there are those things that everyone will ask and you don't want to repeat the same information 200 times, right? If you are not sure what to include, the following are the essentials!
What To Include in a Wedding Website to Make it Useful
This is, of course, a must. The actual information your guests need if you want them to be there on your day! Put it in a clear way on your home page, together with your names. In another place you can then add more detailed information, like a map and the schedule of the day, which is important too.
We all like to do special things for our wedding that we wouldn't do for any other occasion.
Sending paper invitations is one of them. There is a wide range of possibilities and you can be as original or classy as you want. If you are in the classy group, you'd probably include the RSVP card for your guests to send back… but let's face it, most of your friends and family are not going to do it. They are going to call you, WhatsApp you… and that can be quite difficult to track.
If you want an easy way to track your guest list, don't forget to add an RSVP form on the website. Even make it more useful by asking for allergies or special treatments in that same form. Later on, you'll only need to export the excel sheet and voilà! The guest list is ready!
HOTEL & ACCOMODATION INFORMATION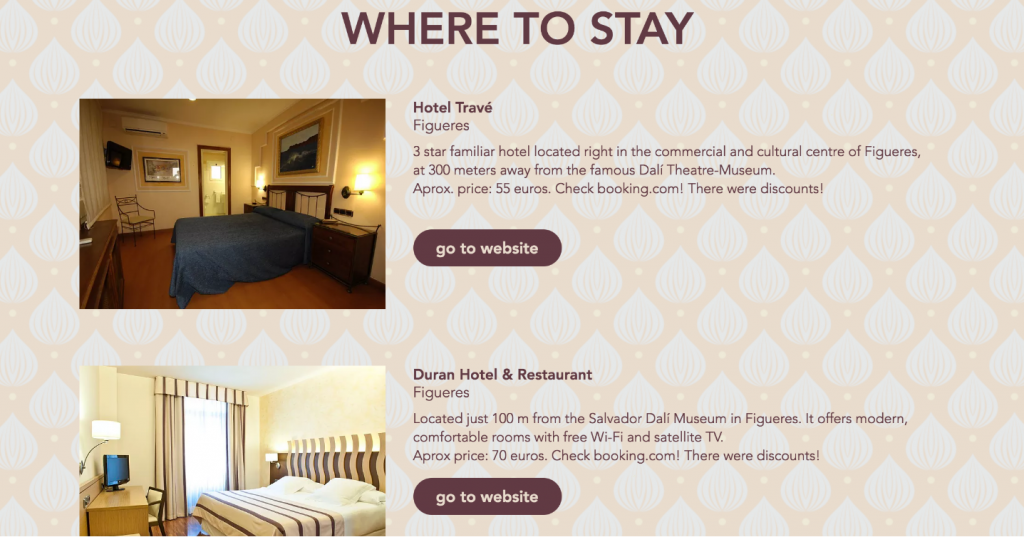 If you are having a destination wedding or a lot of your guests are coming from abroad, this is definitely some information you need to include. I'd suggest you add 2 or 3 options with different price range and a link to their websites, in case you haven't agreed on a price with them.
NEARBY ACTIVITIES INFORMATION
This is particularly important for destination weddings.
Take advantage of having all your friends and family together and make the most of it!
A great idea is to organize different activities the days before and after the wedding. It can be from an informal get-together the night before to a wine tasting or a day at the beach!
Even if it's something simple, it requires some organisation and the one thing you need is to know is how many people will join. So, use the website one more time to give the details of the activities and ask your guests to RSVP for all of them.
Having a website is great, but not everyone has the time. If you are overwhelmed and you don't know how to do it but you want a website for your wedding to keep your guests updated, ask us for a recommendation.
xx