All you need to know to have the best daytime wedding
It is your wedding day and you can plan it however your heart desires. If you don't feel like waiting until 6pm to get married, then think about a daytime wedding. There are some adjustments and some little things you should think about, but here I am to help you with that. Pay attention to the following words and you'll be ready to plan the best daytime wedding of all times.
Tips for a Perfect Daytime Wedding Schedule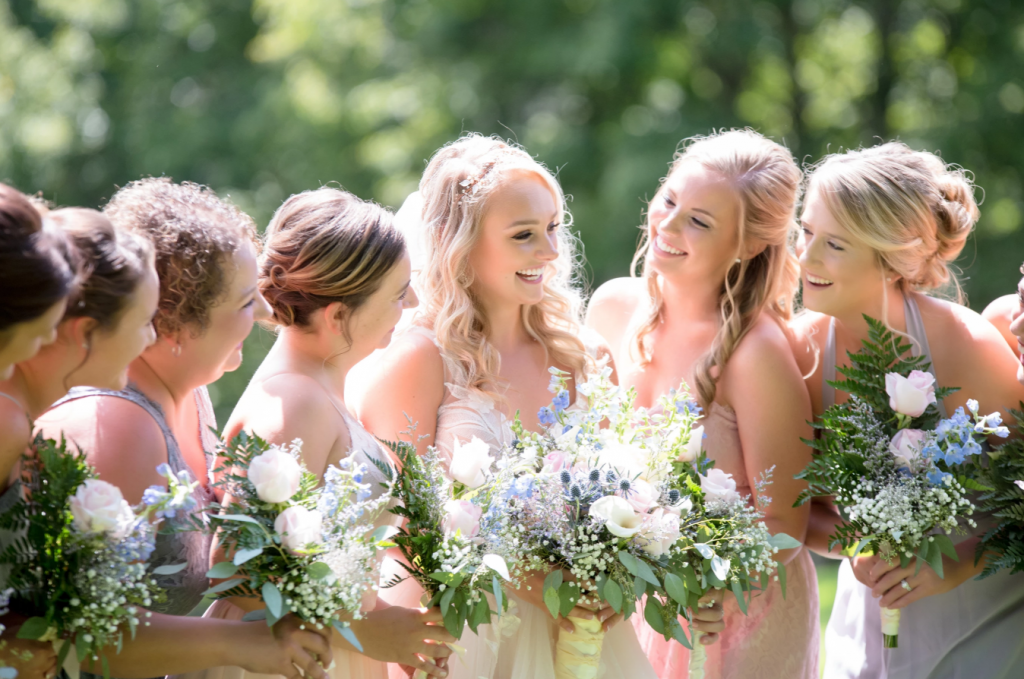 In a general view, my perfect timing for a daytime wedding is to have the ceremony at mid-day. Then, around 1 pm the cocktail hour will start and you'll sit down for lunch at 2:30 pm. That will finish by 5:30 pm and you can have your dancing last until anytime you want.
I love this schedule, but it has its tricks! If you want to follow it, please also follow my next advice.
It is important to tell your guests to have a big breakfast or invite them sooner and give them a little something while they wait for you to arrive. You don't want to hear stomachs grumbling of hunger during your beautiful ceremony.
After the meal, you have plenty of choices. Just make sure which one is yours and plan accordingly. If you plan to enjoy the time with your friends on the dance floor until 10 pm or longer, make sure you have some kind of snack planned. You can make it very cool! From a wall of donuts to having a food truck making some steak sandwiches on the spot. The sky is the limit!
And don't forget this! For evening weddings, the getting-ready time is easy! There is no rush when the wedding is at 6 pm. But if you have a daytime wedding and you want your time to wake up, shower, spend some time with your girlfriends… be ready to wake up at 6 am for the best day of your life!
Choosing Your Daytime Wedding Dress Code
Usually, the dress code for daytime weddings is less-formal than an evening wedding. You won't see long dresses or that many dark colours. You'll see more short dresses, lighter colours, and fabrics. And it's a great opportunity for ladies to wear hats!
Even if it seems to be very simple, it's not. And there will be a lot of people a little bit lost and won't know what to wear. If you want them to come with the right attire for the occasion, help them and tell them what you want.
Advantages of a Daytime Wedding
It's incredible, but your special day gets longer in a sudden! You'll have more time to enjoy yourself with your friends and family and more hours in your stunning dress or even a great excuse to get a second wedding dress.
As you'll have more time, you can even plan surprises and different activities during the day. An idea could be planning some games for after the meal and only later when the sun is lower, cut the cake and do the first dance.
And a big advantage, if you are not a fan of dancing, is that you can always finish the day after the meal and save some money. You'll save in DJ or band and in alcohol, which can be a huge amount!
Yes! You Can Have an After Celebration
Only if you are a party animal, you'll have the energy to keep dancing all night long (remember you'd have waken up at 6am and it would've been a day full of emotions). So, most probably you'll go to bed at 1am -ish. If that's the case, that means you can actually make the most of the following day with a get-together again for a brunch with your guests.
I promise you'll love it! During your day, unfortunately (or not!), you'll miss a lot of things happening around you. That brunch time on the day after will be that magical moment when you and your friends and family will remember episodes of the day before and you'll discover everything you missed and also that it was an amazing day not only for you but for all of them too.
If it hasn't been clear yet, I love daytime weddings. And I like them any time of the year. However, I know this is not the norm and couples prefer the Saturday night wedding, which is totally fine! But if you happen to get married in winter, I strongly recommend you to give a daytime wedding a thought. In winter sun goes down sooner and by 5:30 pm will start to be dark, so, why not take advantage of the wintery sun when you can?!
xx