5 Color palettes for spring weddings
Life is full of color and specially in spring, which makes it very difficult when it comes to choose a color palette for your wedding.
If you are getting married next spring you are now probably debating what colors you should go with. Here you have 5 different palettes, from pastels to bold colors, for you to get inspired and transform your celebration into a vibrant declaration of your love!
5 Color Combinations for Spring Weddings
Blush, gold, and mint for chic romantic couples.
Bold, fresh, true love is what I think about for a modern couple and a modern wedding.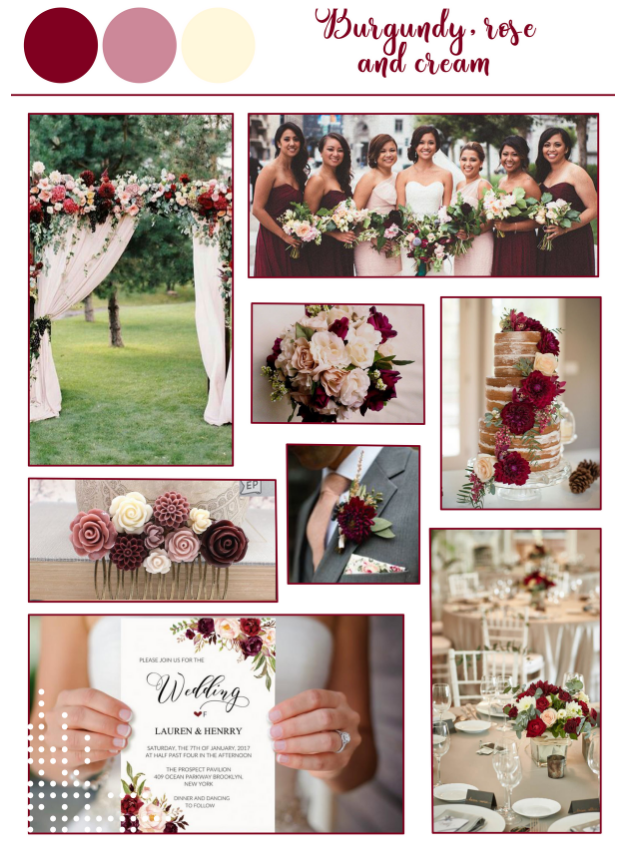 Burgundy, rose and cream for passionate couples
Winter is gone, roses are blooming and this gorgeous palette of burgundy rose and cream are the perfect palette to express your love. 
Sage, peach and grey for the natural romantic
Seeking a nature-inspired wedding palette? This season, our favorite colors are sage and grey blended with pops of peach, primrose gold, & lilac.
Coral, navy and light blue for original and trendy couples
Be on trend with cool colors of Coral, Navy and Light Blue that are fresh and pleasing to the eyes.
Yellow & Green for Original, Daring Couples
Yellow and green are the colors for this year's weddings. The colors are bright, cheerful, and signal the start of something great!